There is one certainty if you visit the Canary Islands and that is that you will see a cat within minutes of your arrival at your resort. Cats are opportunistic animals and take advantage of the climate which allows them to season and produce a litter 3 times a year, the generosity of tourists and the abundance of leftover food, not to mention volcanic soil that closely resembles cat litter. A single female, producing 2 females in each litter 3 times a year can give rise to a population of 22000 cats in 5 years.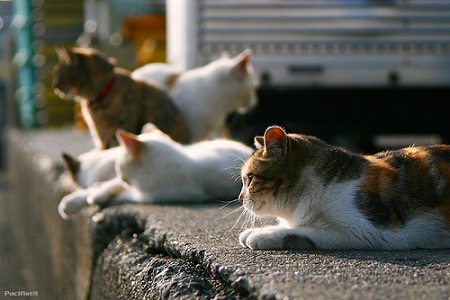 The problem is compounded by visiting workers (often from the UK) who "rescue" kittens and take them home but do not neuter them, creating a stray cat problem in a complex where there wasn't one before. The still common means of control is extermination by poisoning and drowning but this is mostly ineffective because the death of the cats creates a vacuum allowing new animals from the periphery to move in to the complex. However a neutering programme, where animals die off slowly, retains a slowly decreasing population that keeps newcomers at bay.

If you are confronted by strays in your hotel or complex there are two important things. Firstly don't feed them in the apartments or restaurants or any other busy area. This will encourage them to become a nuisance to subsequent guests, resulting in complaints (and ruined holidays for those with allergies). Feed them (only if they are noticeably underweight) only at the designated feeding station or as far away from the main thoroughfare as possible. Unfortunately the excessive feeding of cats by tourists, beyond what they actually need, gives rise to larger litter sizes and more and more unwanted kittens.

Don't approach the management with your concerns, even if you are worried about their welfare, because this may be viewed as a complaint and result in the implementation of an extermination programme; but channel your report to a local animal protection group. Alternatively on your return contact Animal Samaritans Abroad which is the coordinating group of the only three UK charities that work in the Canary Islands and ask them to pass on the information to a relevant local group. The group will then make an approach to the hotel about neutering programmes and advice on feeding points and the disposal of rubbish in cat proof facilities.
If you do find new-born kittens in your hotel please leave them alone, do not move them or rescue them. There is very little prospect for rehoming animals in the Islands and they are best left alone while you make a report to a local group. But don't be surprised if the local group cannot help because they are already inundated. Remember that the cost of buying food for a cat for your two week holiday could pay for a cat to be neutered and treated for fleas and worms if donated to an appropriate charity.
For Gran Canaria if an area concerns you as to whether or not cats are being fed (or neutered) then call "Tara" and let them know. If you want to buy cats food ask Tara how you can make a donation. Tara have designated feeders and monitor cats to ensure they are fed appropraitely and neutered when possible.

The contact numbers for Animal Samaritans Abroad for information about cats in the Islands, to report a cat colony, for details of local Canarian charities or to make a donation is as follows:

Gran Canaria :- "Tara Animal Respect Association"
+34 928 062 891 MON-FRI 10:00 - 16:00 & SAT 10:00-14:00
+34 634 328 2001 / +34 646 399 077
email - This email address is being protected from spambots. You need JavaScript enabled to view it.
http://www.tara-animals.org
Tenerife: Friends of the Ferals - Valerie Sinclair 01297 22838
Fuerteventura: Twinkle Trust - Jenny Billimore 020 8688 9870
Lanzarote: Kismet Account - Ian MacFarlaine 07734-104125