For most of the year you really are spoilt for accommodation choices in any of the major resorts. Leaving things to the last minute during peak times* and you'll be left with a few very basic choices and the odd over-priced one.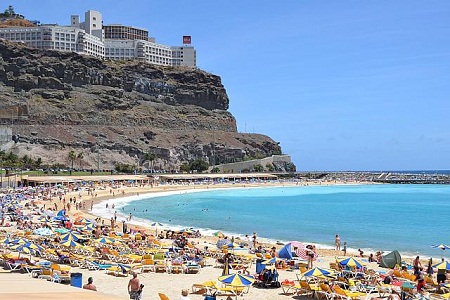 The Riu Palace Vistamar - Amadores
"Meloneras" and "Amadores" are the newly developed areas where you'll find most of the luxury accommodation including the big resort hotels. 5-star hotels with anything from 500 to 1000 bedrooms though you can also find small exclusive ones too. Many were built after the millennium so are still relatively new. 15 years ago and these areas didn't exist; they were just dirt and dust but are now thriving and in-demand resorts. Everywhere else in the south you'll find all types of accommodation from basic, self-catering bungalows and apartments to luxury hotels.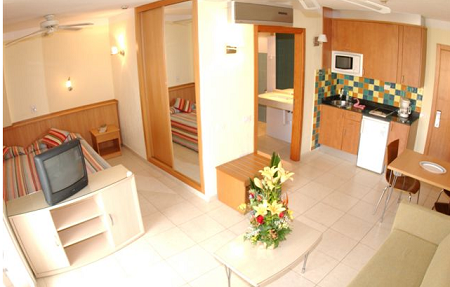 A refurbished 3-key apartment
The current building law here states that anything new has to be 5-star. If any company wants to develop a 4-star property then they have to take over a current property and reform and improve it to 4-star status. The idea is for all the old buildings which aren't going to be refurbished to become residential and for everywhere else to be improved.

Marina Suites - 4 star Apart-Hotel
Over the last 5 years or so many of the really old (1970s) 1-key or less properties have been sold off and become residential only. These were places that offered little or no services other than a swimming pool and very basic accommodation (twin beds, a shower, a sofa, a mini-fridge and a 2-ring electric hob). Those that weren't sold off have improved a lot, are better maintained and equipped and of course are the cheapest places you'll see on a list/search.
Good places to check out what's available if for nothing other than their reviews are Booking.com and Alpharooms but both also offer very good prices where you can filter properties in order of price or review rating. If you're looking for something luxury in Meloneras also have a look at Lopesan as they have 3 resort hotels there plus a good selection of quality hotels around the resorts and sometimes have offers only available on their own site.

Sheraton Hotel - El Salobre
Keep in mind if you're travelling during July, August or September it gets hot! Try and book in advance for somewhere offering air-conditioned accommodation. During the day it's often 40C or more and almost 30C at night to sleep.
A couple of options you may not have considered but could be of interest; if you can drive and are looking for somewhere with a bit of peace and quiet then there's a good choice of rural accommodation around the island, "fincas", rustic houses and villas with or without pools. Anywhere in the bottom half of the island and you can expect weather as hot and sunny as the south coast. In the centre it's hot during the summer but cold in the winter and on the north coast it's generally springtime all year round. There's a good place here to look for rural properties.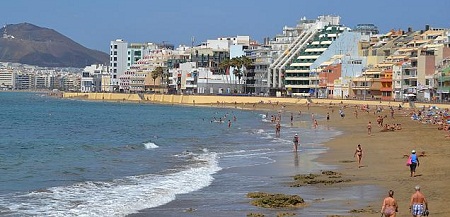 Las Canteras Beach in Las Palmas
Secondly, if you'd like to get out and about and see some Spanish and Canarian culture then how about a two-centre holiday spending a few days in Las Palmas and the rest of your break on the south coast. You can find hotels and apartments often at lower prices than the south all over Las Palmas city. Look in the Las Canteras area of the capital and you're right on the beach but walk the other direction and you're walking through one of the largest cities in Spain. There's a very good bus service from there to all of the towns and villages along the north coast and up to Teror (well worth a visit, especially on a Sunday – market day). At the end of your break in Las Palmas the express bus service will take you to your resort accommodation in Maspalomas, Playa del Ingles or Puerto Rico in less than an hour and for around 6 euros.
*Peak times on the island and you should book ahead if you want to have a good choice though you'll be paying a lot more than at other times of the year. They are Christmas, New Year, Easter, UK school holidays & Carnival Maspalomas. Accommodation prices drop considerably during May, June and September, also the first couple of weeks of October, December and just after New Year for a week or two. A hotel room that may cost 175 euros a night during Easter could be 55 euros during June but then double to 110 euros in July.