Having run a small apartment complex here, working as a rep, in the airport and in tourism here since 1997 I see daily examples of what strange things people bring on holiday that they'll never need, as well as the things that people often forget. So, here's a page to give you some advice, much may be obvious to most of you but not to all.
First, if you have any special requests for your airline seat or your apartment once you're here, the time to make these requests is with your travel agent when you book your holiday. If you leave it until you're at the airport or destination, you're leaving it too late.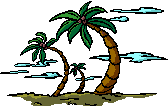 Gran Canaria enjoys a tropical climate throughout the year. Whilst the more mountainous, central region can be quite cold during winter, the rest of the island enjoys sunshine and high temperatures every month of the year. Don't pack too many warm clothes, you won't need any during the summer and you're better off packing too many T-shirts instead. You'll be changing your clothes a couple of times during the day with the high temperatures here (check my weather page). Bring comfortable shoes for walking too and from your apartment complex as this will most likely be done on steep hills or up and down stairs.
Bring travellers cheques and credit cards rather than cash, ensuring your cheques are insured in the case of theft or loss. Cash only what you need for the day and lock away what you're not using in a safety deposit box in your apartment or complex. Banks are the best bet to exchange money (6 days a week 08:30 - 13:30, closed Sundays all year round and Saturdays during the summer months).
Bring your driving license if you have one, even if you don't plan on hiring a car. It's not heavy, doesn't take up space and you may find yourself deciding to hire a car after all as you discover how much there is to see around the island, once you're here.
Nowadays all mobile phone networks from overseas should hook on to a network here no problem. You do need to make sure you have asked your operator to allow international roaming. Calls can work out very expensive though so if you have a smartphone, try and wait until you have a wifi connection (lots about thanks to bars and restaurants) and use an app to make calls free.
Don't bring your favourite foods from back home with you unless they really are bizarre and hard to find back there. Food products are imported to Gran Canaria from all over Europe & Scandinavia in particular, due to the large amount of tourists that visit here on self-catering holidays. The same goes with toiletries. Whilst water is hygenically safe for cleaning teeth, washing food etc... it is very high in mineral content which can cause bad stomaches so for drinking water, by bottled water from any supermarket at around 60 cents for a 5 litre bottle. All ice cubes here are made from mineral water too, so safe to consume. If your flight lands here after around 9pm, you might want to bring a small amount of coffe/tea/sugar/milk and a small bottle of mineral water all ready to make your first "brew" as facilities around many complexes will be closed when you get there.
Bring plenty to read, don't forget you'll be spending a lot of time by the pool or on the beach and foreign magazines and books are a bit expensive here. Some complexes have a "book exchange" facility so check that at reception or the pool bar.
Pack a small first aid kit with plasters, antiseptic, headache and stomach-ache pills, maybe ear-plugs if you're a light sleeper. Also make sure you have an insurance policy that covers you if you need to visit a private medical centre here, as they can be a bit expensive. Your insurance policy could well cover you for valuables up to £500 or thereabouts. If you're bringing a camcorder, cash for the family and more, you may want to pay a small surcharge to have this figure increased so everything's covered.
Bring toiletries from home, they'll probably be cheaper than here. When you get to your apartment or see your rep, find out the emergency medical number to call that your insurance covers then keep that number with you at all times. Don't rely on the local emergency health system.
A lot of the accommodation here doesn't have kettles, toasters or irons so pack the travel kind if you can't live without them. You can hire stuffwhilst you're here though. The currency here is 220 & sockets are 2-pin.

If you need a new camcorder or a new camera, or anything else electrical for that matter, wait until you've been here first. Gran Canaria is a duty-free island and camcorders here compared to UK prices are around 20% cheaper in most cases, as are cameras and all other electrical goods are very much cheaper too. Shop around and compare prices. I can recommend an electrical shop (in Playa del Inglés) called "Visanta" that guarantees your money back during your holiday if you're not happy and provides an international guarantee for all its products. It's best to know what you want and how much you'd normally pay for it before you get here, then ensure you get all the extras you need for it and everything works. Be prepared also for some hard selling from most shops, be firm with them when you know what you want or go to another shop if they get on your nerves! Be sure you are happy with what you've bought and how much you've paid for it before you leave a shop as they won't change anything or refund you after a purchase has been made in other shops around the resorts.
Also along the lines of duty-free, check what your allowance is for going home. Everything you buy on the island must be within the limits set by customs. Duty-free cigarettes, alcohol and perfumes are cheaper on the island than in the airports!
Make sure you have photo ID with you at all times, unless you're going to the pool or beach and don't plan on buying anything with a credit card. You need photo ID when paying by card or if the poolice stop you and ask for ID.
Take care of your valuables when you're on the beaches, especially at weekends, best off leaving them in a safe if they're not in use. Also, when out of your apartment, ensure all windows and doors are locked behind you and electricals (especially the cooker) are turned off. Don't leave valuables behind in a parked car.
Something I didn't think I'd have to warn people about but it's happening a lot, don't go back to your apartment drunk at night (or even sober but tired), leave all your money/wallet/valuables on the living-room table and go to bed leaving the main door unlocked, even open! 80% of all thefts in the resort seem to happen this way, according to the police/reps so I guess there are criminals out there who look for situations like this and take advantage of them, of you! Be careful! Lock things away and at least close your door at night, if there are valuables lying around the apartment, lock the door when you go to bed.
Know your rights before you go on holiday. Basically, if something goes wrong or you're not happy whilst you're on holiday, tell your holiday representative straight away and give them a chance to put things right for you.
If you're not coming with a tour operator but want to do organised excursions by them which often includes discounted prices and free transport, the various reps don't have a problem with you approaching them to book their trips and go along with their clients. Try any of the apartment complexes that the tour companies use, check the notice board for the various excursions and the visiting times of the rep. Many of the excursions here can be booked direct and you can get there by bus if travel is involved. We can also arrange some veryu good and cheap tours for you here.
I really, really, really recommend a day trip up to the mountains. Either hire a car for the day (€30-€35) or book yourselfves onto a jeep safari but go, they are spectacular. I've been so many times already and am still amazed with each visit. Breathtaking! Here are some places you could visit.


When it's time to go home - Be aware that the European standard for checking out of your accommodation is 12 midday. Check with reception regarding the time and a place for you to use/put luggage until you're ready to leave for the airport. There may be facilities for you to shower and change through the afternoon/evening, but you may have to pay extra for this so ask in advance!
Another alternative, a comment someone sent me :-
"I would strongly recommend the Aqua Park as a place to go on last day of holiday, because you can leave luggage at apartments, take some clean gear and have a good clean restful day complete with showers etc, there are also security lockers for 90 cents (plus €3 deposit). We were still on the site at 6.00pm and even then, weren't being herded out."
Pack passports and tickets in hand luggage, NOT your suitecase. Check you've emptied your safe and returned any keys. Don't pack immitation weapons (Sioux City) in your handluggage, they will be confiscated, pack them in your suitecase. No knives or similar sharp impliments allowed unless packed in your suitecase.