TRAVEL GUIDE
Maspalomas Weather
Holiday Resorts of
Gran Canaria
The larger, more popular resorts have sections / pages dedicated to each one and are:
PUERTO RICO - PLAYA DEL INGLES - MASPALOMAS - MOGAN
BAHIA FELIZ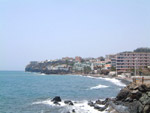 The first of the resorts you arrive at when heading south from the airport (around 15 minutes away) and a 10 minute drive from Playa del Ingles. The only down-side of the resort is the lack of soft, sandy beaches and the strong breeze that always seems to be around. Otherwise, it has all the major ingredients of a modern holiday resort and has more character and style than the rest. The design of the buildings gives a feel of Morocco and although one of the smaller resorts, it's spread out nicely with garden and park areas. There's a prom that runs from the very north to the south, around 7km in total.
Most of the shops, nightlife, restaurants and bars can all be found in the Canarian Village in the middle of the resort. A compact group of buildings a little Canarian in style (though I still get the Moroccan feel there) make up "the Village", on 2 levels. A dozen restaurants to choose from, the same with the pubs/bars, usual souvenir shops, supermarket.
In general, the coastline there is pretty rocky and a little rough but the beaches are still pretty popular with the locals every week-end in spite of that so don't let me put you off. Thanks to the "breeze" wind-surfing here is popular and just a few kilometers up the coast you'll find one of the best coves in the world for windsurfing, "Pozo Izquierdo". As mentioned, Playa del Ingles has a fantastic beach and San Agustin is even closer. There's regular bus services to both and a cab's around 6 euros to Playa del Ingles. Also within a 10 minute drive from Bahia Feliz is the carting track (longest in Spain), Sioux City and the Casino Palace. If you want to see a little more of the local way of life the town of Arinaga is 10 minutes further north up the coast and 15 minutes away is Aguimes.

MELONERAS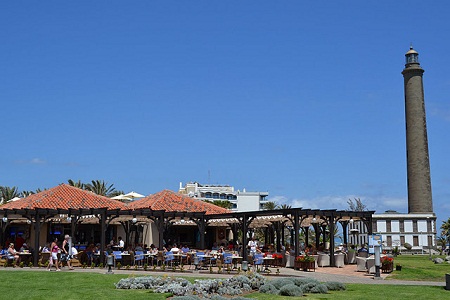 At the moment this is on the "smaller resorts" page but when it's finished it will get a page of its own. Major plans for this new area located to the west of Maspalomas. The lighthouse at Faro splits Meloneras from Maspalomas but the two are side-by-side. Definitely THE posh part of Maspalomas and neighbour to Playa del Ingles, lots of hotels, bungalows and villas already here with lots more on the way and all tend to be 4 or 5 star. The Costa Meloneras is a good example, 4 star, 1,500 rooms and everything you'd expect to find in a town back home you'll find in the grounds here, including it's very own beach within the complex itself.
There's a main commercial center already finished with a nice choice of stylish restaurants, bars, cafes. The shopping here is the designer-label type. More shops are almost finished in various buildings around the area. Of course, being that close to Maspalomas you're walking distance from 8km of golden-sand beach and there's several smaller coves and another of those endless promenades here too.
The funny looking huge building that looks like the roof is sliding off is the Maspalomas Congress center. Pretty boring stuff, business meetings and so on for the most part but watch out for the odd, public exhibition and better still, every month or two there's a very good club night on there, invited guest DJs and space for a couple of thousand.
Over the next several months, lots more top-class complexes will appear along with a second golf course for the area, a new beach with marina, plenty of shopping, residential areas, restaurants and lots of more dead posh stuff.

PLAYA DEL CURA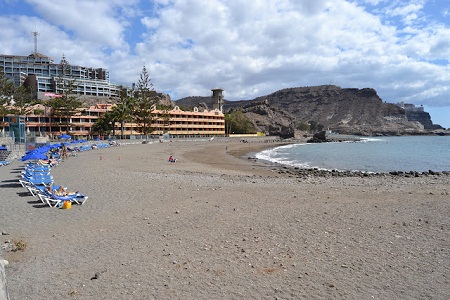 I hate to say this but Playa del Cura is far from my favourite resort at the moment. It's a great little place if you want to be in the sun but away from the crowds. If you've got a hotel or complex with nice pool area and good entertainment then you'll be fine here but if you're looking for fun in the sun and lazy days on the beach, not the ideal place to be.
There's a small commercial center with enough restaurants and bars to keep things varied for a week, there's a supermarket, some souvenir shops and a place to change your money.
The beach is black sand with plenty of dust and stones and there's not a lot of sunbeds. The surrounding area is sparse other than several new, large complexes being built. I hear rumours that a marina and exotic beach might be in the pipeline.
SAN AGUSTIN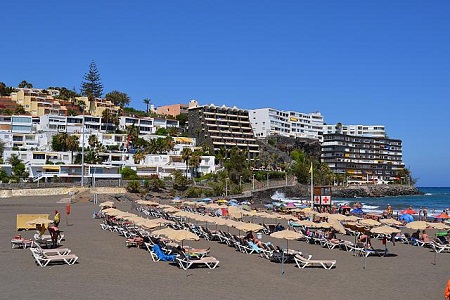 The slightly posher neighbour of Bahia Feliz though more your typical resort with large hotels, less character and apartments complexes. Saying that, there's a big choice of bungalows so not everything's on top of each other there but I personally prefer Bahia Feliz. Compare the commercial centers and you'll see what I mean. Saying all that, San Agustin's hotels and properties tend to be larger, of higher standard with more facilities. The Melia Tamarindos Hotel is a perfect example and also home to one of two casinos on the island and the popular, Las Vegas style "Casino Palace Show".
The beaches here are nice, dark sand and plenty of it, there's three main beach areas, the furthest south offering watersports, pedalos etc. The beach-front promenade starts at the north of the resort and runs the entire length and into playa del Ingles so a good 10km in total length!
The commercial center offers plenty of shops, restaurants and bars etc under one roof though I'd look for restaurants away from there, along the beach front. Perhaps the best equipped private hospitals in the Canaries is located here so if anyone's wanting to go on holiday but worried about a medical condition, go here and care is on your doorstep. As Bahia Feliz is just up the road so is the carting track there, Sioux City's 10 minutes away, the nightlife and everything else Playa del Ingles has to offer is 10 minutes away and there's a regular bus service to all of those and around the island from here. Worth a visit for the "chill-out" factor is the therapeutical center at the Gloria Palace hotel, best in the Canaries?
TAURITO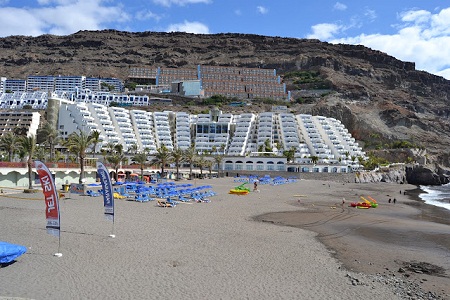 I like Taurito, I'd spend more time there if it was quicker to get to each time I'm there, I always pass by as Mogan is just 5 or 10 minutes further along.
Taurito is another place built into two large hills. The complexes/hotels here tend to be new, nice and generally a higher standard than a lot of places. Each has great pools areas, entertainment etc.... the shops tend to be in the hotels rather than a shopping center but I've not had problems walking in and out of the lobby areas to look round the shops there.
The beach is black sand, plenty big enough for the size of the resort, lots of sunbeds (no water sports) and right next door is the public pool which I'm sure you'll be at instead of the beach. It's not really a pool, they call it the "lake" and it's huge. I think it's about a kilometer to swim around it (it's circular) and there's all kinds of water features along the way to make being there a very nice day. It's 7 euros to get in or 15 if you have the buffet lunch as well. Lunch only is 10 euros, a cushion for your sunbed is 2 euros and an umbrella is 3 euros.