Lanzarote Beaches
What a choice! There are beaches to suite everyone on Lanzarote but not all beaches are suitable for everyone, if you know what I mean...! No? Well, there are some great beaches suitable for windsurfing but they aren't always that good for swimers, some of them are even dangerous. Other beaches are very safe however, great for families with children. I think I've found a little out about all the main beaches on the island that you can visit so choose for yourselves.
El Reducto: Situated in Arrecife, capital of the island, is a beautiful blue flag beach. It has a promenade along the coast and there's the "San Gines lagoon", a natural pond formed by sea water where you'll find small boats belonging to inshore fishermen. The beach has been landscaped with the collaboration of Cesar Manrique and has calm waters and fine, golden sand. You'll have access to showers, public toilets, telephones, restaurants, there's wheelchair access, parking and a bus service.
El Caletón Blanco: Located in the municipality of Haría, a fine white-sand beach where the volcanic rock helps in forming several small sheltered bays ideal for swimming. Camping is also permitted here with municipal approval. Services include a camping site, parking, bus-stop.
Papagayo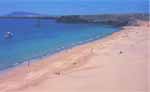 In the south - a collection of bays with crystal clear waters and more fine white sand, perhaps some of the nicest beaches of the island are here. Access is via an unsurfaced road and your best bet is with a jeep if you're driving. In fact, car-hire companies insist upon it though they can't really control it. Though on quieter days in quieter southern parts, nudism is practised, it's not so popular any more as the beaches are too busy with families out for daytrips and picnics. You'll also see the passing boats from Playa Blanca stopping offshore to show tourists just how beautiful these coves are.
El Risco
Almost a thousand meters of fine white sand in the municipality of Haría, this beach is very windy. There's a 400 meter climb down to this beach (so a 400 meter climb out again) with a small car park at the beginning of the path down. It's sheltered from the rougher sea by Isla Graciosa.
Famara -Teguise
Located in the north of the island, it's a great area for experienced surfers but the water here can be rough and sometimes dangerous. There's 6km of large breakers that reach the fine white sands here. Opposite the beach is a large area of sand dunes and then a view of the mountains. The nearby village of Famara offers a handful of restaurants, cafes and bars.
Playa Grande -Puerto del Carmen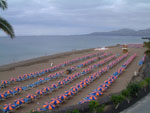 The main beach and a very lively beach situated in the centre of Puerto del Carmen, the ocean one side and a promenade on the other. The calmer waters here make it a popular choice with windsurfers. There's over 1 km of beach. The beach sellers tend to most of your needs here though all the services of Puerto del Carmen are just a short walk away.
Playa de Matagorda - Puerto del Carmen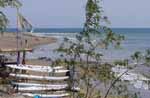 A string of small, golden sand beaches stretching along the coast from Puerto del Carmen. Calmer waters which are good for swimming and windsurfing. The beach isn't that far from the end of the airport runway so not the quietest of beaches.
Playa Blanca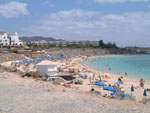 Playa Blanca is the fastest growing resort on the island, still developing with luxury hotels currently under construction. There are 2 beaches in the resort; the smaller original beach facing the port and the distant island of Los Lobos. The new, larger man made - Playa Dorada - where you'll find water sports and somewhere to eat and drink. The beaches are popular for families and the gently sloping sands into the calm waters are safe for children.
Playa de Los Pocillos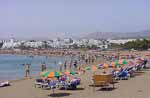 This is at the more exclusive end of Puerto Del Carmen, it's quieter than the main beaches. Here there's a choice of quality restaurants and bars. When the wind picks up this beach is popular with windsurfers.
Janubio - Yaiza

A bit of a different beach as the sand here is black. It's the kind of beach to go to to get away from everyone and everything, lacking in services and transport.
El Golfo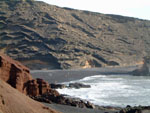 More famous for the green lagoon, the black sand beach here is a popular resting point for tourists and locals alike.
El Cable - 315 m. of fine golden sand, 2 km. away from Arrecife.
Caleta - 60 m. of white sand, in the Malpaís de La Corona.
Caleta del Mojón - 100 m of fine white sand, very windy, in the Malpaís de La Corona
Playa Honda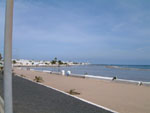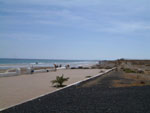 Good beach for your last day, just before you go for your flight home. Why? It's close enough to the airport that part of the beach is just a few meters from the runway. Much of the beach isn't and the shallow and calm waters here make it ideal for families. Shops and food within easy walking distance.
La Garita - 810 m. of fine white sand, good for practising surf, in Arrieta.
La Concha -San Bartolome - Two hundred and fifty metres of fine, golden sand.
Guacimeta - San Bartolome - A chain of small beaches set against a backdrop of small housing estates. Pretty close to the airport though.
Las Cucharas - Teguise
The beach is situated in the Teguise district - the second most visited spot on the island. Popular with windsurfers.
Lima - Tias - Golden sands about 3km from Puerto del Carmen.
La Santa - Tinajo
Situated in a natural lagoon, La Santa has white sand beaches and calm waters. A perfect place for diving and windsurfing and home to the nautical club.