If you fancy a day out shopping during your stay here then you have plenty of options to choose from though the most obvious may not be the best, all depends on what you're looking for and how adventurous you're feeling...
If you've been here before or are already on the island, I'm sure you've seen we have plenty of commercial centers around the resorts, maybe too many? They offer dozens upon dozens of restaurants, bars (some with live entertainment or cabaret shows), shops, banks with cashpoints, supermarkets and so on. Puerto Rico you can't really miss the main center at the bottom of the valley; in Playa del Ingles there's almost a dozen centers scattered around the resort, if you're in Maspalomas your best heading off down to the start of the promenade where the lighthouse is as there's a nice boulevard of shops there and at the end the Varadero center. These are great choices for basic needs or maybe if you wanted to kill an hour or two on a cloudy day but for serious shopping forget about them .
The nearest and easiest alternative for a day of serious shopping is in a town called Vecindario. It takes around half an hour to get there by public bus service leaving every half hour or so from Puerto Rico, less of course from Maspalomas & Playa del Ingles. You're best getting off at the first stop which is the large Atlatico shopping center. Zara, Mango, Blanco, Pull & Bear & other popular Spanish chain-stores are in there as is Carrefour. Buy your duty frees here, they'll be cheaper as everywhere on the island is duty free, not just up at the airport. Behind the center some 100 meters you'll find Avenida de Canariaswhich is a long (some 3 kilometers) street of shops and on a Wednesday half way along there's a street market there also.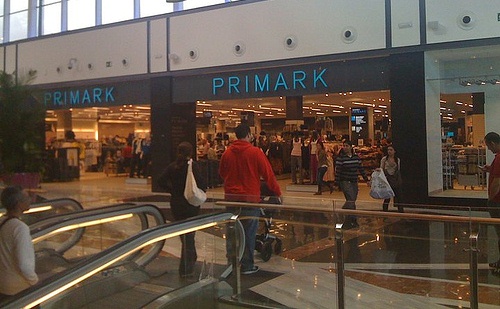 If you have a hire-car then maybe head on up the motorway to El Cortijo (just past Al Campo & Ikea). You'll find the largest commercial area in the Canary Islands there in the form of an outlet center called Las Terrazas and a more mainstream center opposite called El Mirador. Every major Spanish shopping chain in existence is probably there, it takes half a day to walk around them both without going into any of the shops! There aree bus services stopping close by but they don't take you into the commercial area, they drop you off nearby on the motorway so you'll have a ten minute walk to get there, not so convenient.
My final recommendation is a combination of a cultural day and shopping combined – head on up to Las Palmas, the capital city on the north-west corner of the island. There's an express bus service getting you there from the south in about 45 minutes and it drops you off by San Telmo park. This is the beginning of the large and busy Triana pedestrianized shopping street. At the end of this street you'll arrive at the city's 500 year-old historic quarter "Vegueta". Get there before 14:00 and you'll have a choice of museums and galleries to visit (try the Colon maritime museum or the History museum). There's a spectacular cathedral you can also visit, a maze of cobbled streets and fantastic architecture to marvel at.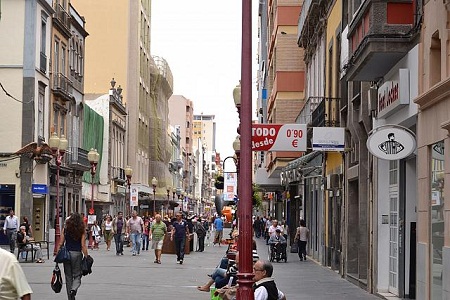 If you have energy for more than from there catch a cab into the city center, ask for "Mesa y Lopez" and you're on the "Oxford Street" of Las Palmas where the department stores can be found such as El Corte Ingles. Alternatively you could go to the huge "Las Arenas" shopping center. Spend the last of your money and energy here or walk outside onto the promenade as you're at the beginning of the wonderful Las Canteras beach. Whilst it's tempting to eat at a McDonalds or similar, look out for the local restaurants that offer menus for around 10 euros which includes a starter, main course, desert and drink and will offer typical local dishes.